Structuring Content
Now that you have 'the big picture' for your course planned out, it is time to start sequencing the content, organising it into chunks that are manageable and help pace students through the course.
Sequencing
Once the learning objectives are well defined, you can start to think in terms of what topics you are going to cover to meet the objectives. As you think about the topics, you are going to start to see the sequence in which it makes sense to address them.... and... voila... this is you sequencing your content! Sequencing the content is not more than jotting down the topics to cover for each learning objective and in which order.
You can start the sequencing of your content with the help of a concept map that shows the relationships among concepts or by creating a hierarchy of topics if your content is fairly linear.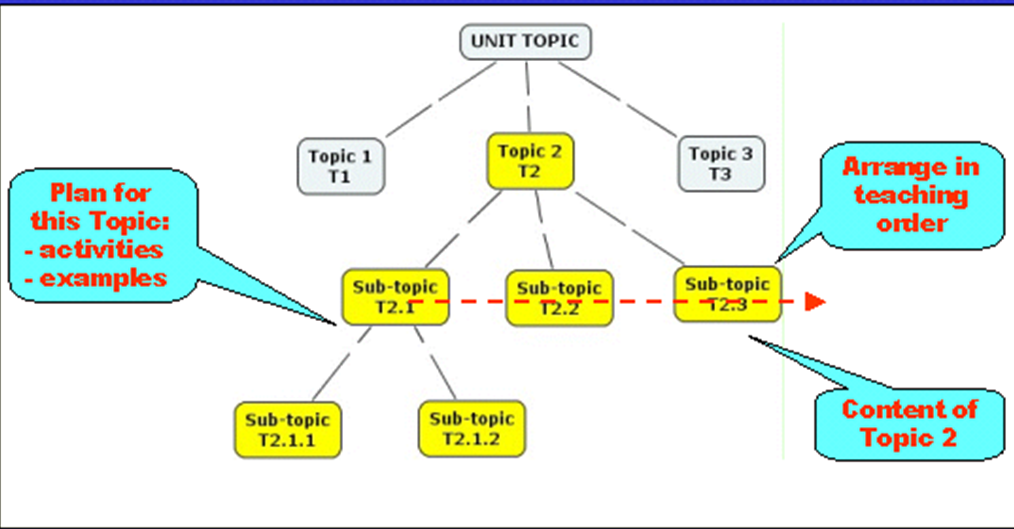 Planning a logical sequence for the content topics provides learners with patterns that will foster the building of connections between the content topics and the practice activities. Learners will clearly see the purpose for their learning, which will result in a more meaningful learning experience.
Chunking
And since you already have jotted down the learning activities that will be required for each learning objective, you will be able to look at the sequence of topics to cover together with the necessary learning activities to see how they fit into larger, meaningful "chunks" of learning. Structuring content in small chunks helps learners solidify the relationships between concepts, especially if you use subtitles to provide an easy guide.
Pacing
As your content is in the proper sequence, in the right chunks, you can start to think about how to help learners pace themselves so that the learning experience does not get to be overwhelming. It is at this point that you start to think in terms of how much work students can realistically do in a week, for example. Then you are ready to start creating your course structure.