17. Interactive Lectures, Seminars, and Tutorials: Learning by Talking
17.2. Seminars and Tutorials
Definitions
A seminar is a group meeting (either face-to-face or online) where a number of students participate at least as actively as the teacher, although the teacher maybe responsible for the design of the group experience, such as choosing topics and assigning tasks to individual students.
A tutorial is either a one-on-one session between a teacher and a student, or a very small group (three or four) of students and an instructor, where the learners are at least as active in discussion and presentation of ideas as the teacher.
Seminars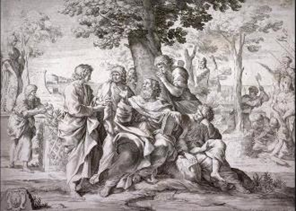 Seminars and tutorials again have a very long history, going back at least to the time of Socrates and Aristotle. Both were tutors to the aristocracy of ancient Athens. Aristotle was the private tutor to Alexander the Great when Alexander was young. Socrates was the tutor of Plato, the philosopher, although Socrates denied he was a teacher, rebelling against the idea common at that time in ancient Greece that 'a teacher was a vessel that poured its contents into the cup of the student'. Instead, according to Plato, Socrates used dialogue and questioning 'to help others recognize on their own what is real, true, and good.' (Stanford Encyclopedia of Philosophy.) Thus it can be seen that seminars and tutorials reflect a strongly constructivist approach to learning and teaching.
The format can vary a great deal. One common format, especially at the graduate level, although similar practices can be found at the school/k-12 level, is for the teacher to set advance work for a selected number of students, and then have the selected students present their work to the whole group, for discussion, criticism, and suggestions for improvement. Although there may be time for only two or three student presentations in each seminar, over a whole semester every student gets their turn. Another format is to ask all the students in a group to do some specified advanced reading or study, then for the teacher to introduce questions for general discussion within the seminar that requires students to draw on their earlier work.
Tutorials
Tutorials are a particular kind of the seminar that is identified with Ivy League universities, and in particular Oxford or Cambridge. There may be as few as two students and a professor in a tutorial and the meeting often follows closely the Socratic method of the student presenting his or her findings and the professor rigorously questioning every assumption made by the student – and also drawing in the other student to the discussion.
Both these forms of dialogical learning can be found not only in classroom contexts but also online. However, in general, the pedagogical similarities between online and face-to-face discussions are much greater than the differences.