18. Learning by Doing: Experiential Learning
18.4. Experiential Learning in Online Learning Environments
Some advocates of experiential learning is highly critical of online learning, because, they argue, it is impossible to embed learning in real-world examples. However, this is an oversimplification, and there are contexts in which online learning can be used very effectively to support or develop experiential learning, in all its variations:
Blended or Flipped Learning: Although group sessions often start off the process, and/or bring a problem or project to conclusion, they are usually done in a classroom or lab setting. However students can increasingly conduct the research and information gathering by accessing resources online, by using online multimedia resources to create reports or presentations, and by collaborating online through group project work or through critique and evaluation of each other's work;
Fully online: Increasingly, instructors are finding that experiential learning can be applied fully online, through a combination of synchronous tools such as web conferencing, asynchronous tools such as discussion forums and/or social media for group work, e-portfolios, and multimedia for reporting, and remote labs for experimental work.
Indeed, there are circumstances where it is impractical, too dangerous, or too expensive to use real-world experiential learning. Online learning can be used to simulate real conditions and to reduce the time to master a skill. Flight simulators have long been used to train commercial pilots, enabling trainee pilots to spend less time mastering fundamentals on real aircraft. Commercial flight simulators are still extremely expensive to build and operate, but in recent years the costs of creating realistic simulations have dropped dramatically.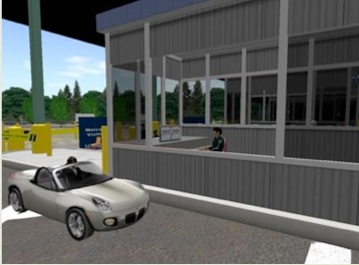 Instructors at Loyalist College have created a 'virtual' fully functioning border crossing and a virtual car in Second Life to train Canadian Border Services Agents. Each student takes on the role of an agent, with his/her avatar interviewing the avatars of the travelers wishing to enter Canada. Other students play the travelers. All communication is done by voice communications in Second Life, with the people playing the travelers in a separate room from the students. Each student interviews three or four travelers and the entire class observes the interactions and discusses the situations and the responses. A secondary site for auto searches features a virtual car that can be completely dismantled so students learn all possible places where contraband may be concealed. This learning is then reinforced with a visit to the auto shop at Loyalist College and the search for an actual car. The students in the customs and immigration track are assessed on their interviewing techniques as part of their final grades. Students participating in the first year of the Second Life border simulation achieved a grade standing that was 28 percentage higher than the previous class who did not utilize a virtual world. The next class, using Second Life, scored a further 9 percentage higher. More details can be found here.
Staff in the Emergency Management Division at the Justice Institute of British Columbia have developed a simulation tool called Praxis that helps to bring critically incidents to life by introducing real-world simulations into training and exercise programs. Because participants can access Praxis via the web, it provides the flexibility to deliver immersive, interactive and scenario-based training exercises anytime, anywhere. A typical emergency might be a major fire in a warehouse containing dangerous chemicals. 'Trainee' first responders, who will include fire, police and paramedical personnel, as well as city engineers and local government officials are 'alerted' on their mobile phones or tablets, and have to respond in real-time to a fast-developing scenario, 'managed' by a skilled facilitator, following procedures previously taught and also available on their mobile equipment. The whole process is recorded and followed later by a face-to-face debriefing session.
Once again, design models are not in most cases dependent on any particular medium. The pedagogy transfers easily across different delivery methods. Learning by doing is an important method for developing many of the skills needed in a digital age.