26. Online Collaborative Learning
26.3. Community of Inquiry
The Community of Inquiry Model (CoI) is somewhat similar to the OCL model. As defined by Garrison, Anderson, and Archer (2000):
An educational community of inquiry is a group of individuals who collaboratively engage in purposeful critical discourse and reflection to construct personal meaning and confirm mutual understanding.
Garrison, Anderson and Archer argue that there are three essential elements of a community of inquiry:
Social Presence: Is "the ability of participants to identify with the community (e.g., course of study), communicate purposefully in a trusting environment, and develop inter-personal relationships by way of projecting their individual personalities."
Teaching Presence: Is "the design, facilitation, and direction of cognitive and social processes for the purpose of realizing personally meaningful and educationally worthwhile learning outcomes"
Cognitive Presence: Is "the extent to which learners are able to construct and confirm meaning through sustained reflection and discourse".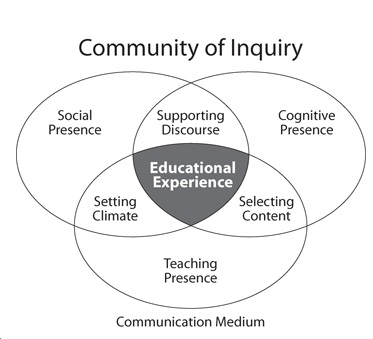 However, CoI is more of a theory than a model, since it does not indicate what activities or conditions are needed to create these three 'presences'. The two models (OCL and CoI) are also more complementary rather than competing.