Facilitating using PowerPoint
Topic Four: Let's Get Started
Welcome to Topic Four of Facilitating Using PowerPoint. It is recommended that you complete all the activities by the 12th of October. If you are finished sooner, move on to the next topic.
This week you will facilitate an interactive session using the PowerPoint slide set as a resource. Close cooperation and consultation with your institutional based assessor is needed to arrange for the assessment of your approved session.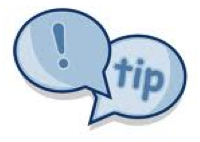 PowerPoint Tip! Keep it Simple! PowerPoint offers all sorts of ways to add visual "flash" to your slides: fades, swipes, flashing text, and other annoyances are all too easy to insert with a few mouse clicks. Avoid the temptation to dress up your pages with cheesy effects and focus instead on simple design basics:
Use a sans serif font for body text. Sans serifs like Arial, Helvetica, or Calibri tend to be the easiest to read on screens.
Use decorative fonts only for slide headers, and then only if they're easy to read. Decorative fonts –calligraphy, German blackface, futuristic, psychotic handwriting, flowers, art nouveau, etc. – are hard to read and should be reserved only for large headlines at the top of the page. Better yet, stick to a classy serif font like Georgia or Baskerville.
Put dark text on a light background. Again, this is easiest to read. If you must use a dark background – for instance, if your company uses a standard template with a dark background – make sure your text is quite light (white, cream, light grey, or pastels) and maybe bump the font size up two or three notches.
Align text left or right. Centered text is harder to read and looks amateurish. Line up all your text to a right-hand or left-hand baseline – it will look better and be easier to follow.
Avoid clutter. A headline, a few bullet points, maybe an image – anything more than that and you risk losing your audience as they sort it all out.

Let's get started with Topic Four.....
Design a PowerPoint enhanced facilitation session

Using your Session Plan as a guide, design a set of quality PowerPoint slides to support it. Use the Checklist for a set of PowerPoint slides to ensure you are meeting the design criteria.


Checklist for set of PP slides to be used for facilitation

Upload your quality, interactive PowerPoint slides and checklist


Once you have completed your checklist and designed your slides, upload them to your portfolio forum.

Submit your set of PowerPoint slides as <initialname>_PPslides_vs1

Submit your completed checklist of the set of PowerPoint slides to be used in your session as <initialname>_Checklist_PPP

Upload the Checklist and PowerPoint slides to the

Portfolio Forum

Mentor Observation and Assessment

Close cooperation and consultation with your mentor is needed this week. He or she needs to observe and evaluate your training session. Start by downloading the observation checklist. Familiarise yourself with it so you know exactly what you have to demonstrate in order to gain competency. Give a copy to your mentor. They will complete it as they observe your training session and then give it back to you.

Download:

Observation checklist for a PowerPoint enhanced learning session

Preparing the Technical Aspects of your Session

You will have to demonstrate competence in setting up the hardware for your session. This means connecting the computer/laptop to the beamer/projector and seting up the screen appropriately. The criteria you are to meet is outlined in Competence area 1 of the Observation checklist.

Read the Guide:

How to Set Up a Computer Projector for PowerPoint

Using the PowePoint slide show options

To ensure you use the set of PowerPoint slides you designed for facilitation interactively, you are to be very confident in the use of presenter's view, use of presenter's tools such as pen, laser, highlighting, typing on a slide during presenting the slide, as well as use of "B" and "W" toggle keys to blacken or white your screen to gain attention. Practice before facilitation.

Review MS PowerPoint Internet Tutorials

Now you need to learn how to configure PowerPoint to work with a projector in presentation mode.


Read: How to setup PowerPoint with a projector 

Getting ready to facilitate a Session


Search and read on the web for the dos and don'ts as a facilitator when using PowerPoint slides in a learning session. Be aware that you might find lot's of information relating to 'presentation' and less on 'facilitation'. Make notes on what you read, what you find important in your situation, what you consider not very relevant in a facilitation environment.


Read: Presenting with PowerPoint

View the PowerPoint presentation: Facilitating using PP-slides

View the PowerPoint presentation: Sample slides illustrating PP skills

Practice your training session over and over, then contribute to this week's forum discussing set up of hardware, using the MS PowerPoint presenter's tool options, and do's and don'ts when facilitating using a set of PowerPoint slides.

Topic Four Forum: Preparing for facilitating a training session using PowerPoint

On the day of your Training Session

In preparation for your training session, you need to make sure your mentor/assesssor has the observation checklist to evaluate your session. You also need to develop a training session evaluation to give to the people who attend your session. Their feedback will help you understand what you did well and what you can do to improve.

Develop a training session evaluation to give to the people who attend the training session.

The time has come! Facilitating a Session

You have worked very hard to arrive at this point. Congratulations! Remember to speak slowly in a lively and personable tone of voice. Once you have finished your training session, collect evaluations from attendees and set up a debriefing meeting with your mentor/assessor

Set up a debriefing meeting with your mentor/assessor
This has been a busy week! Have you completed all the activites for topic four?

Topic Four: Checklist

Last modified: Wednesday, 17 September 2014, 4:06 PM